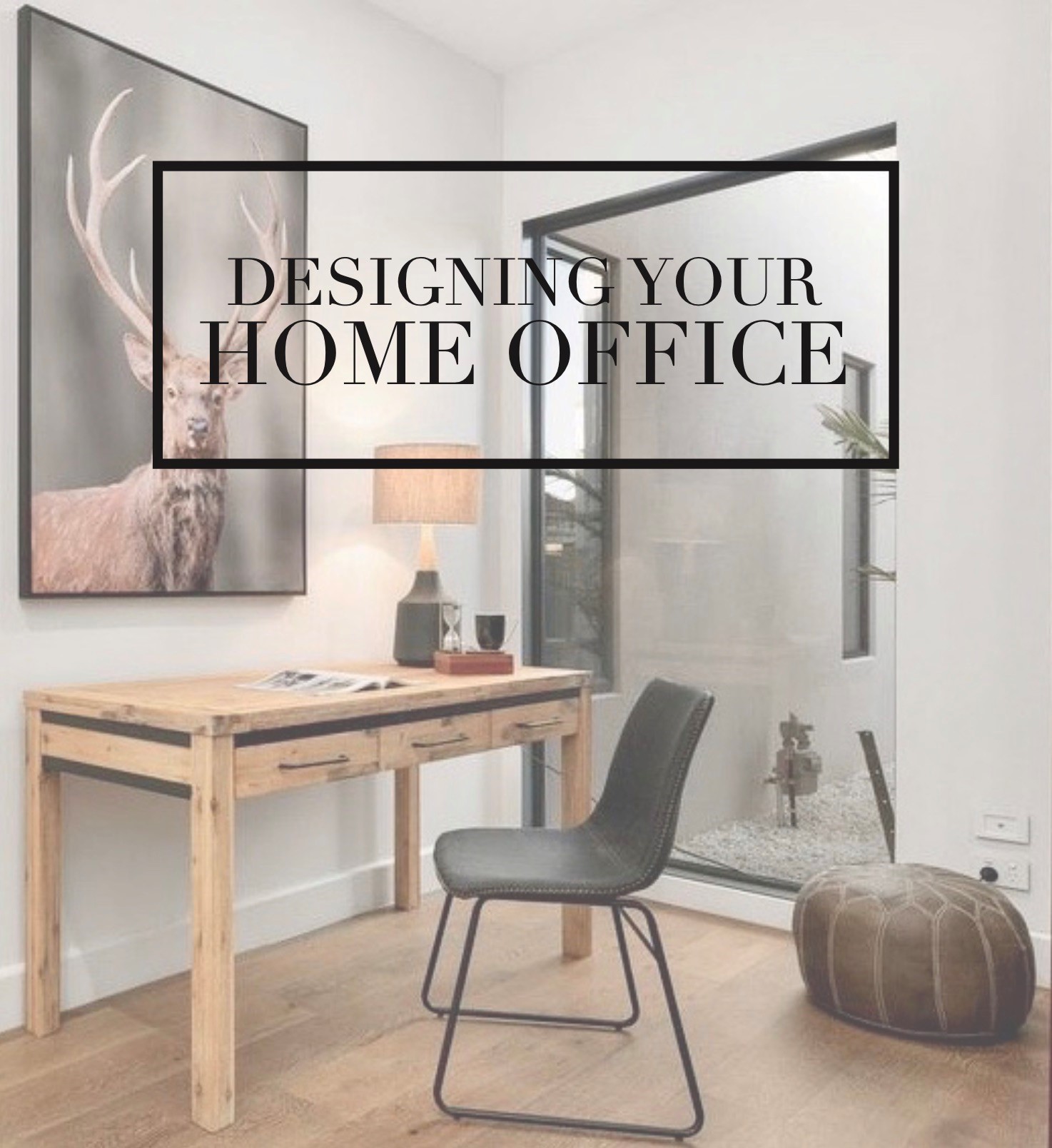 Designing Your Home Office
A Guide For All Your Home Office Ideas
As we enter a post-covid world, some of us have transitioned to a work-from-home life. While we grapple with this new reality, one important aspect of working from home is the space in which we conduct our zoom meetings and/or get inspired to complete those overdue projects.
I've come up with some ideas on creating the ideal space for a home office that will hopefully inspire you and help you get through lockdown. Keep a lookout for my tips & tricks and recommendations!
How To Design A Home Office
Location is Key
You may be lucky enough to have a spare bedroom dedicated to a study. But for most, space is a precious commodity especially for families with little kids. Unused space from a landing, hallway or even under the stairs can make a purposeful, functional space. Ideally, this space will be void of distractions and will keep you focused as you buckle down to business.
An interesting way to use closets is to repurpose them into a home office. Wardrobe/ closet doors can be removed and its shelves readjusted to make room for a desk within the space. Add file cabinets, shelves and vision boards and you'll have a dedicated space for a home office.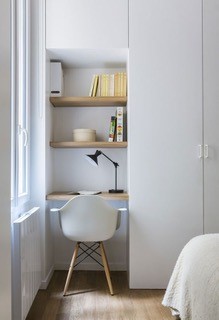 Lighting & Ambiance
Lighting can transform the way a room looks and feels. In a home office, lighting can help keep you engaged and focused. Where possible, position your desk near a window and keep heavy window treatments like drapery to a minimum letting in as much natural light in.
Should you have a nook without a window, consider layering the lighting with standing floor lamps and table lamps. Quirky lamps and lanterns add interests in a dull corner.
A windowless wall is also the perfect canvas for you to get creative within your home office. Framed prints, mirrors, tapestries that resonate with your personality adds character to your home office and will provide a brilliant backdrop to all those virtual video meetings.
What Do I Need For A Home Office?
Furniture & Ergonomics
Comfortable furniture within your home office should fit not only your needs but also your space.
Choose a desk with drawers to tuck away small items such as stationery. Where space is available, bookshelves or floating shelves on the wall provide you with a display space without taking up precious floor area. Your shelves can be painted in the same colour as your wall for a modern look.
If you are spending hours on end in your home office, an ergonomically friendly office chair is essential. 
Important Tip: When seated, your feet should rest flat on the floor with your thighs parallel to it. Choose a chair that offers ample back support, supporting the natural curve of your spine.
Extra Tips For Designing Home Offices
Get Organised!
A well-organised space will not only look good, but also enable you to be fully productive. Labelling your filing and storage boxes help to keep your office organised. 
Georgia's Tip: My bookshelf is stacked with labelled boxes of the same style and design, a mix of books placed both vertically and stacked horizontally. I also include a few special and meaningful trinkets and photos to the shelf. I love having some hanging greenery that gives a lovely effect on the shelf.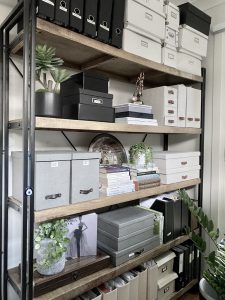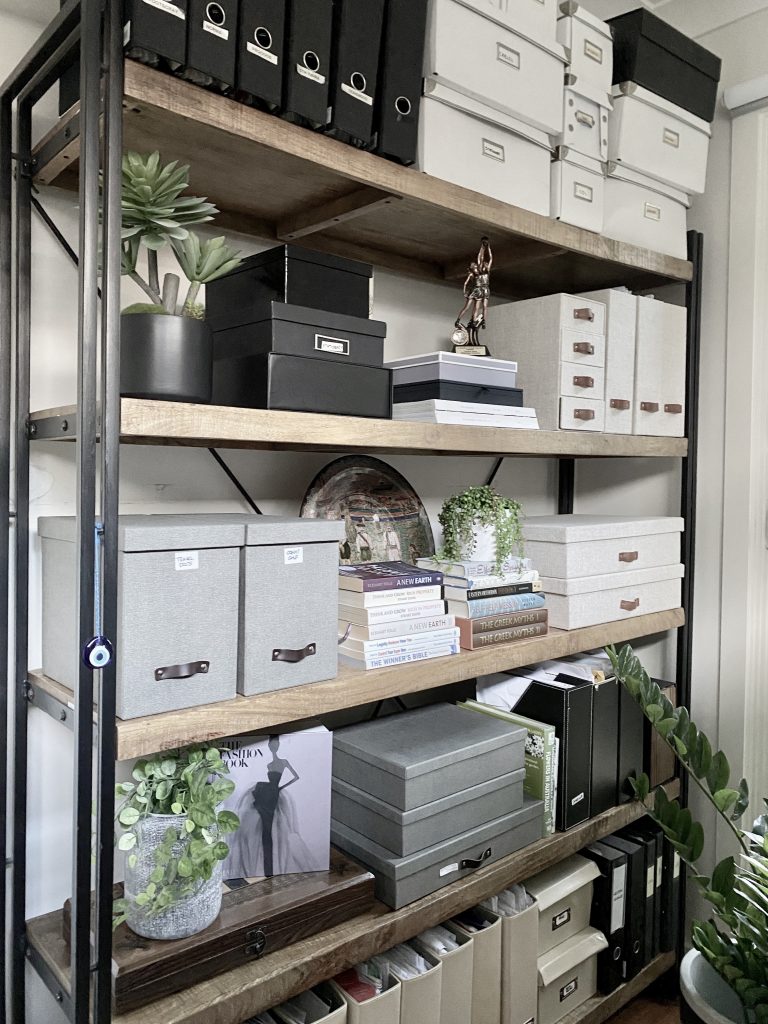 Cables and wires that run rampant are not visually appealing, much less safe for you to work in! So tidy up with cable tidies, or reusable Velcro wraps that can be strapped under your desk.
Touch of Green
Natural greenery will bring life and a sense of tranquillity into your home office. Plants also act as a noise barrier and air filter that will certainly keep your workday feeling fresh and relaxed.
Where space allows, having your plants on different levels on a bench, windowsill or trolley will give your home office a nature-reserve vibe. 
Georgia's Tip: Fill the top shelves of your bookcase with a collection of ferns and leafy indoor vines like philodendrons and hang some macramé planters by the window.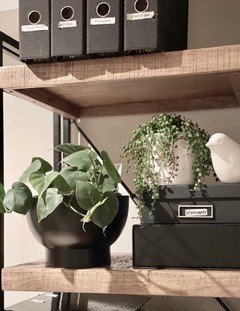 Final Words
While it is uncertain if we will ever get back into our offices this year, we can take into our hands the design of our home offices and create the space we need to feel happy, content and productive. Hopefully, my tips can help you start on that journey! 
If you're still feeling creative and want to spruce up the rest of your home, check out our guide to designing your living room.
Keep well and stay safe
xGeorgiaK.