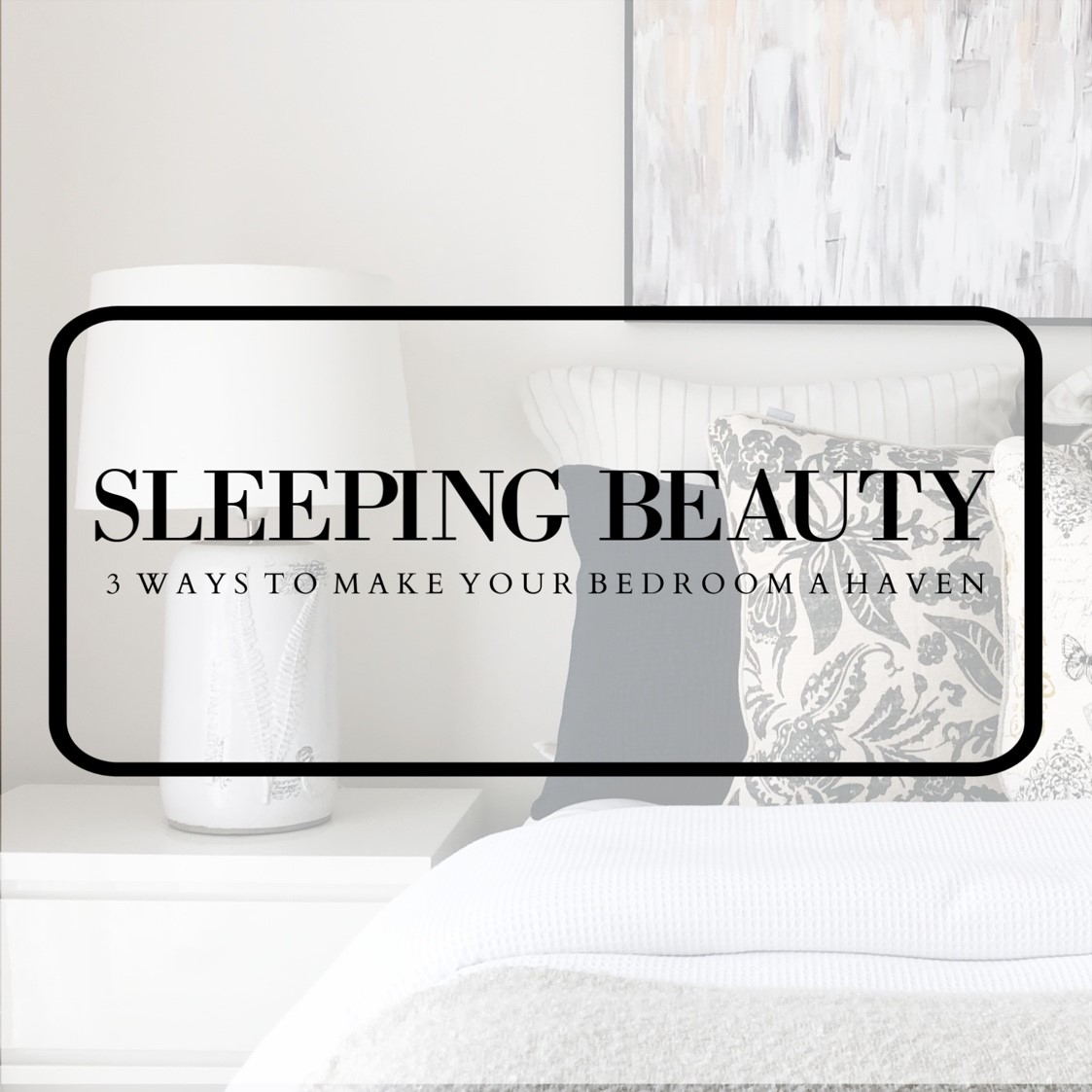 Sleeping Beauty – 3 Ways To Make Your Bedroom A Haven
3 things to focus on in the bedroom this Autumn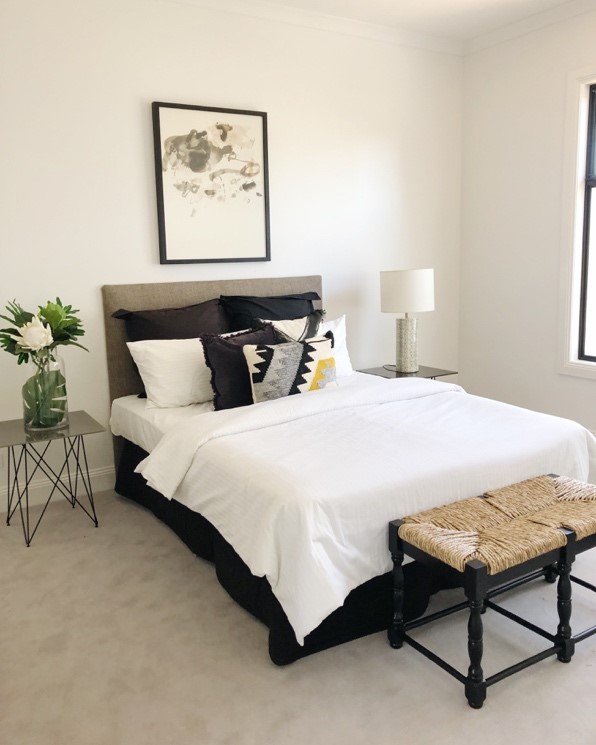 Colour
Okay don't freak out. We're not telling you to paint your walls bright red (Unless you love that idea, in which case, GO FOR IT)
But colour is the best way to make your bedroom feel more… 'You'
We've found two best ways to use colour – especially when staging a home for sale.
1.Use subtleties.
Your walls make up your room, so let's include them in this section! We recommend keeping your walls neutral as this enables you to swap and change the colour in your bedroom as your style and taste changes. We recommend the Dulux 'Hampton' colours (greys, warm whites and taupes) – Greenery also adds an organic element that we've found changes EVERYTHING.
2. Deep & Bold.
We are currently LOVING jewel tones. Deep navy, emeralds, burgundy & mustards are continuing to be a favourite in Autumn 2019. These rich colours evoke warmth and cosiness. We especially love these colours in velvet textures in both throws and cushions.
Whether you paint your whole room or use soft furnishings to bring in these delicious colours, they are sure to make a statement this Autumn.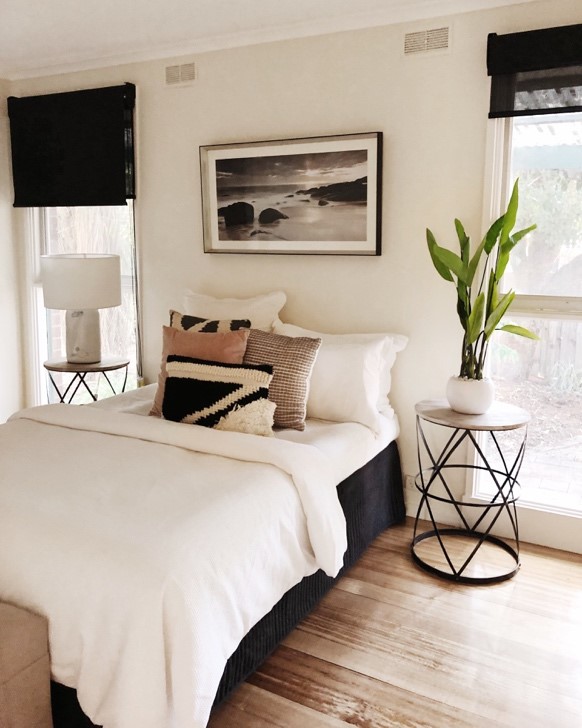 Furnishings
A trend we're still LOVING this year is minimalism (Marie Kondo we see you girl)
One thing to note about a bedroom is its main purpose… SLEEP (and late nights scrolling through Instagram and catching up on Netflix original series)
So when styling your haven of rest, try and limit clutter. Even trinkets and ornaments can appear messy at times.
Clutter doesn't promote good sleep, and so by keeping the mess at bay, you promote healthy sleep and create that totally Zen feeling you pay so much $$$ on at day spas.
Hot Tip: Minimalistic styling doesn't mean you have nothing. Try styling your bedsides with a reading lamp, a book and a small plant. Trust us, this is all you need sometimes!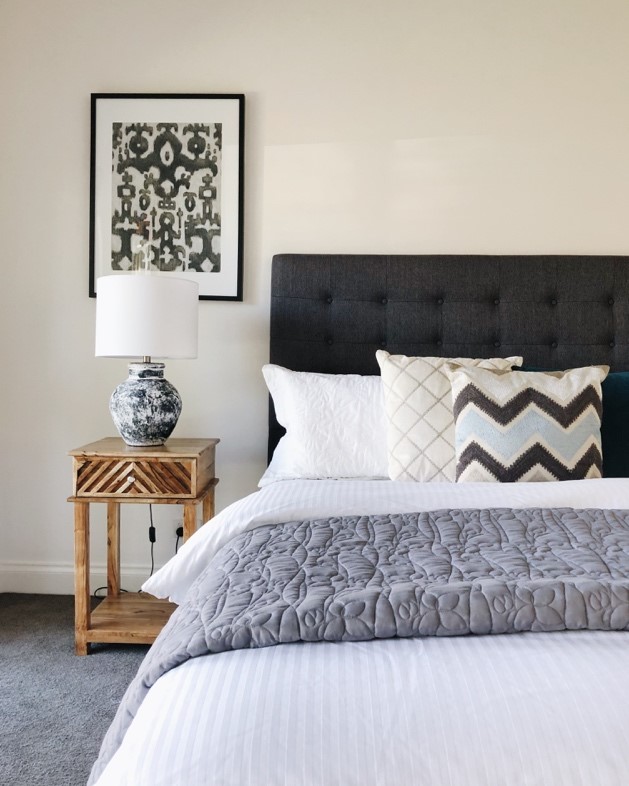 Linen
Make comfort a priority.
The season is changing again, and as we come into cooler mornings and nights, there's nothing better than sleeping in under plush linen. Or even going to bed amongst fresh sheets and new scrunchy pillows.
We've been LOVING on organic linen for a while now however this new season is demanding slightly warmer bedding.
We'd recommend refreshing all your bedding, instead of using linen sheets, perhaps opt for heavier, more luxe bedding with similar neutral colours & minimal pattern.
It will give the same refined effect, with DOUBLE the comfort (you're welcome!)
We also layer our beds with throws to add a new element of texture to our place of rest. We even layer with doona covers as these often have beautiful patterns with colours we don't always find in throw blankets.
Keeping our bed covers neutral allow us to layer with luxe textures, patterns & colour (this way we can change our minds frequently about what colour we're obsessing over at the moment)
If you use any of our tips, tag your photos with #designstoinspire
We'd love to see your work!
The Designs to Inspire Team
X