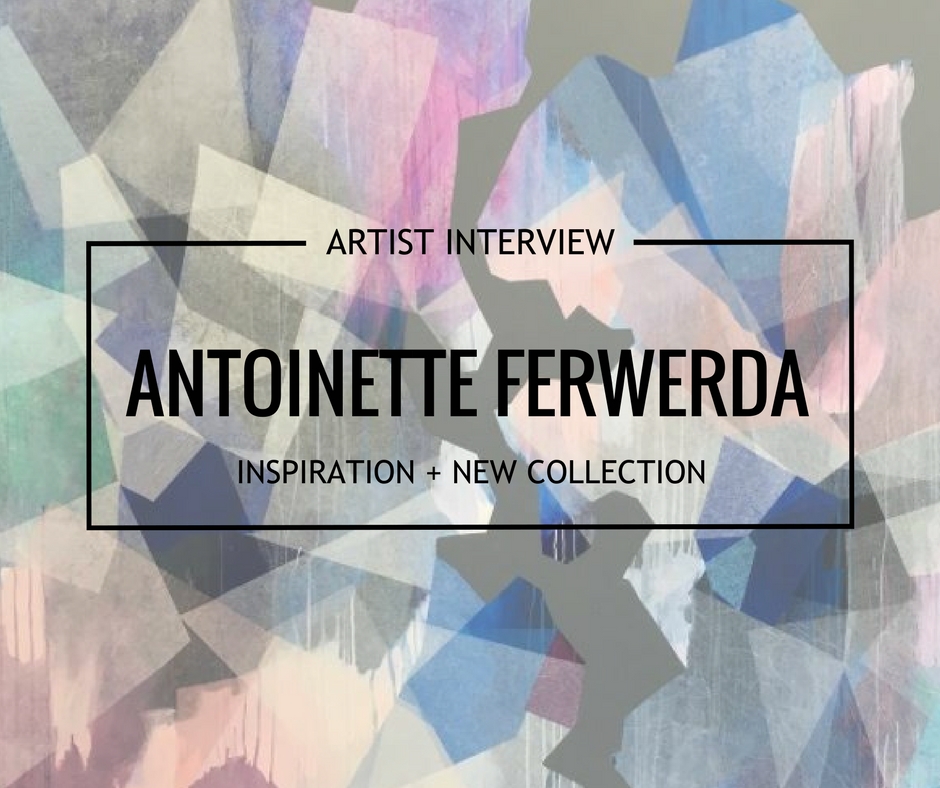 Antoinette Ferwerda Interview – Inspiration and New Collection
You may have noticed that we have a girl crush on Antoinette Ferwerda. Her art and designs are divine.
And as she prepares for her next solo exhibition in Byron Bay this month, we were lucky enough to ask her a few questions about her inspiration for her upcoming collection.
Q. Where do you look to find your ideas and inspiration?
My art and design practice are triggered by simple, random observations – the colour of a flower in my garden, shapes in clouds or the patterns on the sand from waves washing the shore. I've always been interested in science which was the basis for my previous corporate career within the pharmaceutical industry. I love to explore links between science and art, then build upon these ideas to create a visual interpretation of my concept through painting. Surface patterns on living and non-living things are one of my obsessions. I'm inspired by my children's drawings, stories or when they read poetry, paint or even build Lego. I also often listen to music whilst I paint which helps me find the subconscious space where my painting takes over.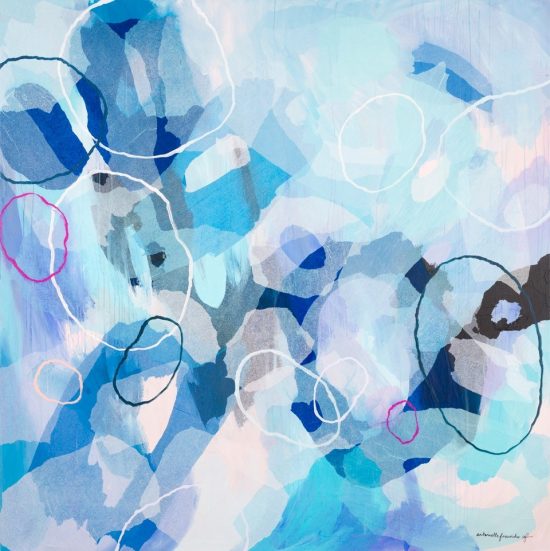 SEASIDE POOLS 2017
Acrylic paint and mixed media on canvas, framed
1.5m x1.5m
$4600
Q. How has this new collection evolved compared to your last works?
My new collection of star-inspired paintings adds another dimension to my compositional styles alongside hills and rockpools. I've explored the chemistry and process involved when stars are born, grow old and finally die which is the same for each of us (although it doesn't take billions of years thank goodness!). The new collection has moody, darker colours and reflects the night sky exploding with bursts of color with the birth of a star.  My "Light Years" exhibition incorporates the elements of our planet, namely the heavens, earth and water.
 Q. What is your favourite piece of artwork in your new collection and why?
The larger paintings are definitely my favourite ones as it's so much fun to paint BIG!  It's very hard to choose one painting but I'm really intrigued with 'Dark Matter' …  it's fascinating to observe and listen to other people's interpretations of this painting and the way they see so many varied things in my abstract representation of the nuclear fusion process.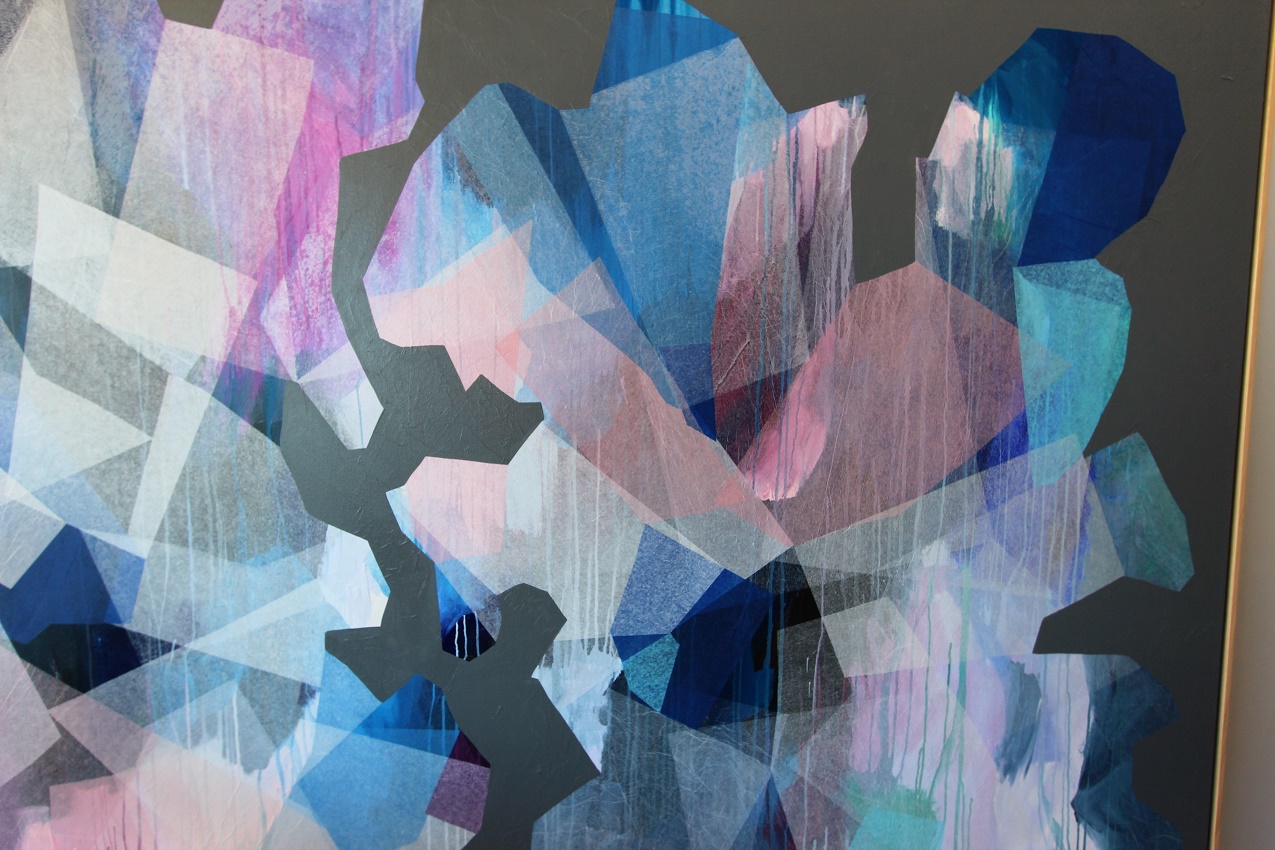 DARK MATTER 2017
Acrylic paint and mixed media on canvas, framed
2m x 1.5m
$6600
Q. What colours are you working with at the moment?
My colour palettes are darker with more contrast including deep tones of charcoal, navy and cobalt blue brought to life with bright white, metallics and subtle blush tones. Grey and darkest green anchor the colour explosions and provide negative space.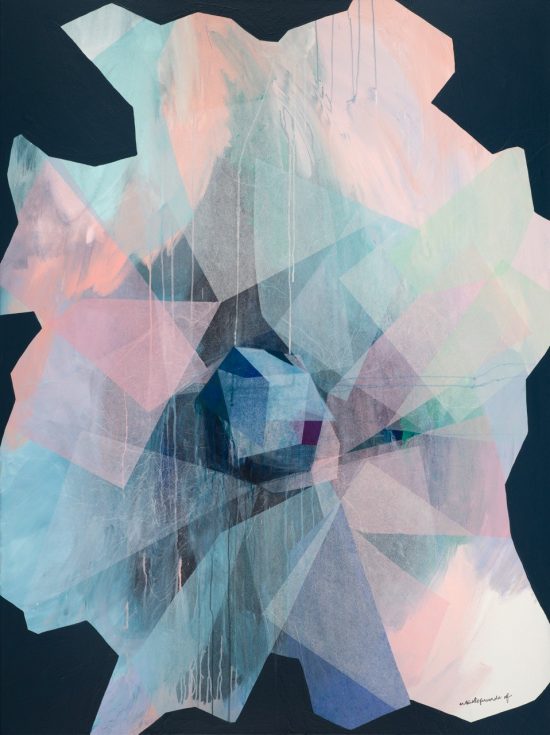 SPECTRUM 2017
Acrylic paint and mixed media on canvas, framed
2m x 1.5m
$6,600
Q. What do you see as the colour trends for the season?
Silver and white for fresh, classic crispness. Rich burnt orange and ochre for warmth alongside natural greens and beige.
Q. How do you describe your style?
My works soar from land to sea to sky. Using mixed media on canvas, I like to bring light to invisible rhythms, relationships and energies that course through the world as I see it. The Hills series, with its repeating arcs of colour and harmonious reflections are broken apart in the Rockpool series, where water shatters and reforms the world anew. The Star series launches us into the universe above, where the vastness of the cosmos is fractured and compressed, stretched and unfolded into visions of eternity.

ROSE GOLD HILLS 2017
Acrylic paint & mixed media on canvas, framed
1.1m x 1m
$2700
Q. Lastly, any hints on what you have planned for the future?
Staying open to creative ideas and influences is part of my daily flow time. The future always brings new possibilities and then it takes time and hard work to draw upon my ideas to create a complete concept. I'm thinking about flowers lately and observing texture and shapes …. watch this space 🙂
Antoinette Ferwerda Exhibition Details:
'LIGHT YEARS' – Solo exhibition by Antoinette Ferwerda
Opening 8 July until 22 July
Thom Gallery
1/6 Fern Place
Byron Bay Industrial Estate
NSW 2481
For exhibition enquiries contact Alex Thom: 0411 813 999
About the artist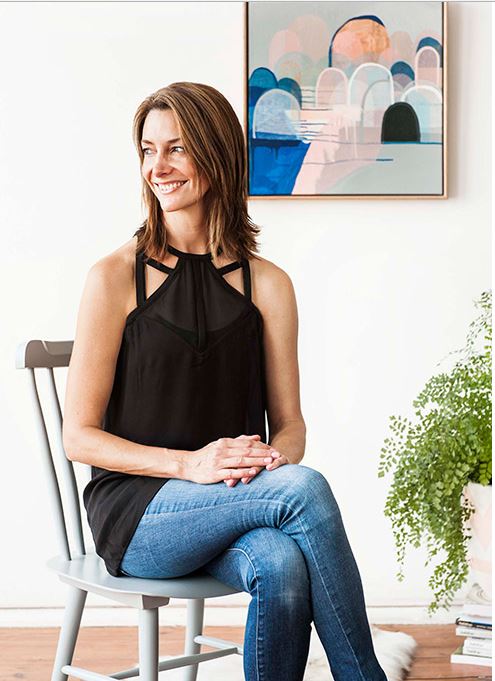 Antoinette Ferwerda is a Melbourne based visual artist who creates original paintings using mixed media on canvas.
Her creative themes focus upon light and the geometry of shape, with vivid use of colour in the compositions which reflect her observations of the natural world.
Ferwerda studied graphic design at RMIT to combine her love of painting with technical design skills, subsequently moving to a corporate career spanning 14 years until returning wholeheartedly to her artistic passion after having her two children.
The development of her unique mixed media, abstract-impressionist painting style with her signature "hills" composition has grown her artistic reputation throughout Australia and overseas.