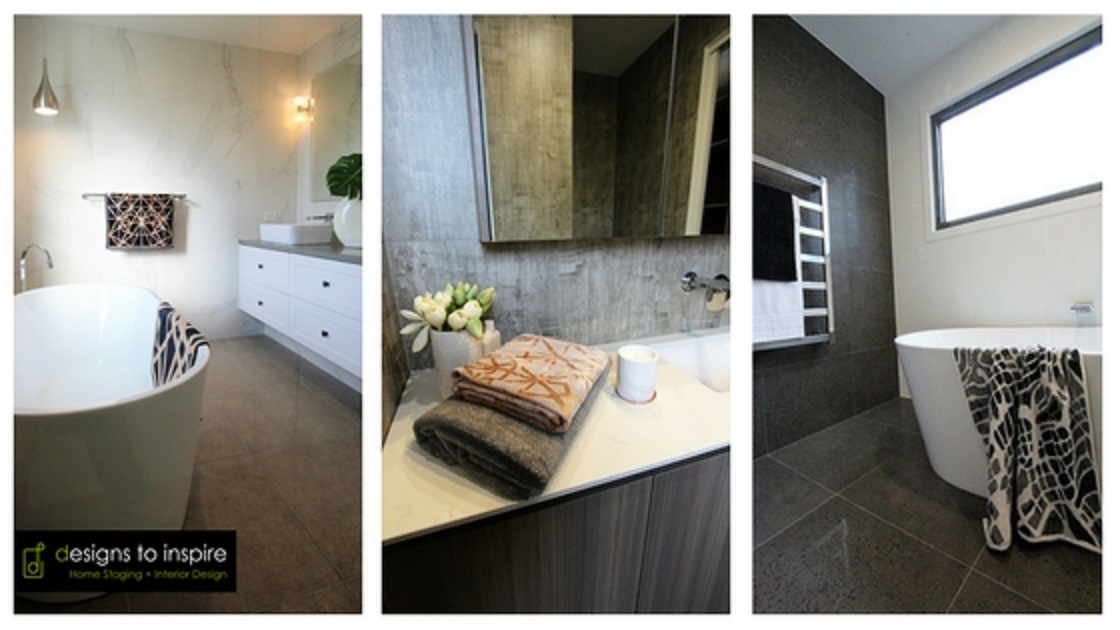 Bathrooms – Affordable luxury edition
With so many fixed elements; tiles, tubs, taps etc, you may feel there's not much left to do to complete your bathroom. Yet all these hard items need to be softened. So how can you diminish the hard lines and add flair to one of the smaller rooms in your home?
The following styling tips will help make your bathroom feel more enticing, luxurious and warm this winter.
Stack, layer and group
Layering items create a sense of opulence. Stack towels, with a soap or coral on top or use a tray to group items together.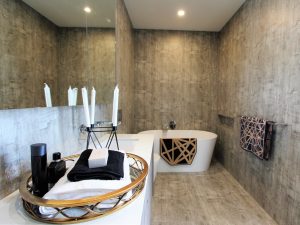 Green bathrooms
Escape at home with greenery – oh so restful, uplifting and inviting.
From potted plants that love humidity to a single green leaf. And who said you can't introduce a vase with flowers in a bathroom? For a master bathroom (and needless to say a kid-free zone), these gladioli make a big statement.
For a low-cost option, forage around your garden and place a succulent in a small vase or flower in a glass.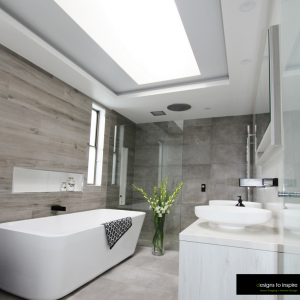 Bathing rituals
Look across cultures, and you'll appreciate bathing rituals.
From Cleopatra's milk soaked baths, heavenly warming hot springs in Japan to the quintessential Russian banyas. How do you bring this sense of pampering to a humble abode?
Occasional tables or drums layered with fragrant candles, soft wash cloths and scrubbing brushes invite you to unwind.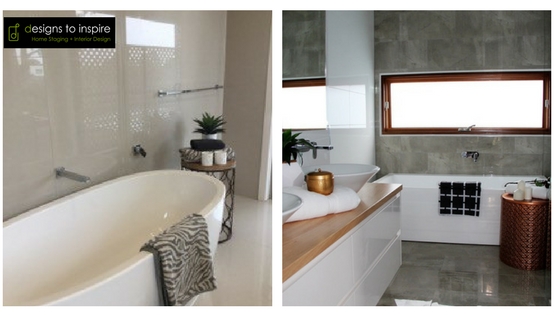 Artful designer towels
We're coveting Ninnho designer towels for their standout designs and sumptuous feel. Take a look at how they've added a wow factor to homes we've styled recently.
For neutral bathrooms, towels can add welcome colour. Add a luxurious gold sheen with the Sapphire or Diamond design which lift the room with their sparkle. Further, you can accentuate graphic elements in a monochrome bathroom scheme with black and white towels, such as one of our favourites, the Watermark.

Wall art
Apart from the regulatory mirror, walls in bathrooms can be adorned with art. Choose a metal or plastic frame to withstand humidity and start out with an inexpensive print and see the difference it makes!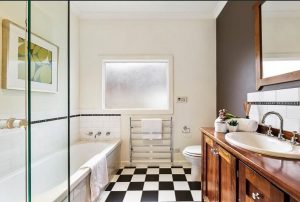 Creative storage
Need additional storage? Baskets can be used to store towels or even toilet rolls in bathrooms which lack cupboard space. Here these two baskets act as a clothes hamper and towel storage.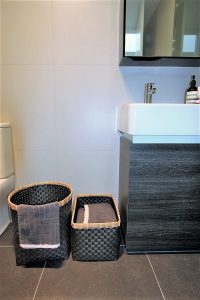 Final words
These simple tips can help add both style and function to your bathroom.
Remember, the little items can add up to provide a lot more character and help place the finishing touches to one of the hardest working rooms in your home.
Happy styling!